Welcome to the initial run of Thryve Tidbits! My goal is to bring practical insights for entrepreneurs to help them grow as leaders and managers of successful small businesses.
Each month I will be focusing on three areas:
Lessons I learned starting my own business
A book or article that activated me this month
An app to help you run your business
Thank you for joining me on the journey. I hope to pack a ton of value into each short newsletter.
Lessons learned: Be Hungry
A little hustle is a big differentiator. The personal touch with customer service. The extra effort to bring in the sale. Jumping at opportunities to bring value to your business relationships.
The energy that you can bring every day is very rare and stands out in the eyes of your customers.
You may think all business owners have this quality. We hear stories and read books about business owners who took that extra step to help the customer or were extra sensitive to a vendor. There is a reason that books are written about them: those leaders are few and far between.
Part of the transition from being an employee to an owner is the change in mindset to becoming a catalyst instead of a cog in a much larger machine.
Book: Think Again by Adam Grant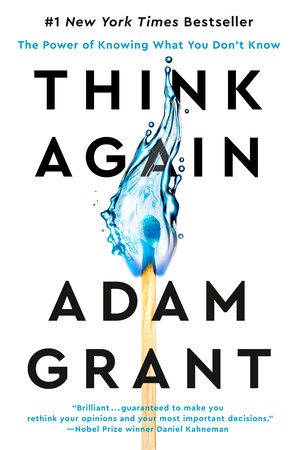 In this book, Adam Grant delves into how people can change their mindset to overcome their natural inclination to follow their default thought process during problem solving. The ability to rethink is so important in the current business climate as technology and industry changes happen so quickly.
Questions for you to ponder:
How often do you revisit strategic or operational issues in your business to identify whether circumstances have changed, and different solutions are needed?
Do you have a "challenge network" that you can approach when critical issues arise to ask tough questions?
Are you too attached to your own ideas? Or are you confident enough in yourself to drop your idea if a better one is suggested from others? Even more, are you happy when your idea is found to be wrong as now you know more than you did before?
Technology as a tool: Miro

Choosing the software tools to help you build your business should be completed with intention and strategy. The right software can help to keep you productive and leave more time for delivering value to your customers. Purchasing unnecessary or duplicative apps, though, leads to wasted time, more complexity and lost money.
The best way to understand your current situation and opportunities to improve your tech stack is to map out your current business' processes and tech solutions. I use Miro (www.miro.com) when I work on my own processes and use the tool when I assist my clients. Miro provides a whiteboard with user friendly tools for ideation and collaboration. Some cool features that I like are: real time collaboration with team members, templates, and virtual sticky notes. A free plan is available with three boards to get started. Once you have mapped out your processes, you can often see opportunities where pockets of redundancy or excess complexity exist.