Thryve's revolutionary accounting experience accelerates small business success.
Thryve provides common accounting services in a decidedly uncommon structure, backed by years of experience working with small businesses and rooted in an entrepreneurial mentality. 
Meet the accounting firm that's redefining the traditional accountant experience.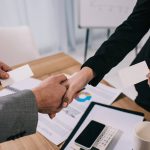 Thryve integrates smoothly into your business, becoming the strategic business partner you've always wanted.
We offer a comprehensive and customizable menu of services to suit the specific needs of every business.
Not Your Typical Accountant